Aemilius Cupero Scam
Aemilius Cupero is running a follow-on-fraud targeting victims of binary option scams and the Pacific Tycoon shipping container scam.  A follow-on-fraud is also known as a Recovery Room scam.  See this article on the latest recovery room scam we exposed [LINK to Alastair Dobbie and Gian Luca Fetta].
The image below shows the sales pitch which was pinned to the wall of the Pacific Tycoon sales office and which its salespeople were expected to follow.  It's similar to those used by most sales agents who sell scam investments.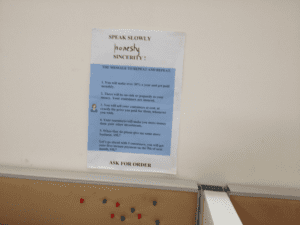 If the image is unclear this is what it says:
SPEAK SLOWLY – HONESTY – SINCERITY !  THE MESSAGE TO REPEAT AND REPEAT.
1.  YOU WILL MAKE OVER 30% A YEAR AND GET PAID MONTHLY.
2. THERE WILL BE NO RISK OR JEOPARDY TO YOUR MONEY.  YOUR CONTAINERS ARE INSURED.
3. YOU WILL SELL YOUR CONTAINERS AT COST, AT EXACTLY THE PRICE YOU PAID FOR THEM, WHENEVER YOU WISH.
4. YOUR CONTAINERS WILL MAKE YOU MORE MONEY THAN YOUR OTHER INVESTMENTS.
5. WHEN THEY DO PLEASE GIVE ME SOME MORE BUSINESS, OK ?
6. LET'S GO AHEAD WITH 5 CONTAINERS;  YOU WILL GET YOUR FIRST INCOME PAYMENT ON THE 7TH OF NEXT MONTH, OK ?
ASK FOR ORDER
Pacific Tycoon was a very large scam which was sold worldwide a few years ago.  The proposal was that investors purchased shipping containers.  The containers would be used by companies wishing to transport their goods around the world.  Pacific Tycoon would organise the import-export arrangements and pay the owners of the shipping containers a 30% pa return on their investment with a guaranteed replacement policy should any shipping container ever be damaged or deteriorate through wear and tear.  The scam was operated by a man who called himself Ted Mallory using salespeople in Hong Kong.  Mallory lives in Vietnam, making it very difficult for investors to take any action to recover their money.
The company still exists but pays annual returns of around 0.1%.  These low returns started as soon as the sales operation ran out of steam.  It was a classic Ponzi Scheme.
The Aemilius Cupero follow-on-fraud claims to be based in Wyoming, USA with an office in Hong Kong.  Investors are being contacted by the USA office and told that Aemilius Cupero is running class actions against five Mallory companies allegedly based in Estonia.   Emails from the company are sent by Jacob Hayman.
Regards,
Jacob Hayman
Client Relationship Manager
+1 (307) 461 9822
201 East 5th St. STE 1200
Sheridan, Wyoming 82801
United States of America
Aemilius Cupero is not genuine.  The fact that victims of binary option scams are being targeted suggests an Israeli connection because Tel Aviv was one of the global centres for binary option frauds and there have been several high profile investigations.
Any company based in the USA would have a much better command of the English language.  Here is a link to their website [LINK].
Here are some examples of the language they use.  It reads as if 10,000 words have been put into a Scrabble bag, pulled out at random and then arranged to form a sentence.
"Our endowed affiliations globally omnisciently seek your interest and attitudinally employ requisite acumen to reduce all possibilities of exoneration and establish the wrongful intentions of the defendant".
"Our ecumenical presence offers specific options for apposite legal recourse for financial recovery interests to the uttermost representation". 
We regard statements like those above as being pyrogenous amalgums of designatory effervescences constituting intransient zygums.  [For the record – Zygums is a great Scrabble word].
According to the Aemilius Cupero website they have 2,000 happy clients, yet the website domain name was only purchased a year ago.
There's another reason which points to them being a scam.  Almost every review is 5-stars.  This tells us that they've written their own reviews.  If they were any good at exposing scammers they would have received quite a few 1-star reviews and negative comments written by the scammers themselves.  Scammers always post fake reviews and fake statements against investigation firms which cause them grief and are successful in disrupting their scam operations.  That's part of the game.
Aemilius Cupero Scam.