BitIndexFarm Scam
BitIndexFarm is using a fake trading platform as cover for a Ponzi Scheme.  We received the following enquiry from a BitIndexFarm investor through our Contact page:
Dear Sirs
BitIndexFarm is a scam.
Please advise anyone you know who is at the verge of taking an investment decision not to fall into this trap. Any money less than $500 you invest into this platform will be refunded with 20% interest in 24 hours, but anything more will be absorbed by their system and they will start using new vocabulary which they had never mentioned before like, auto-invest, kick-start, ROD…
Don't buy into all of these. It is a scam. They convince most people to join through a private Telegram group known as BitIndexFarm, similar to their website. In this group, they show fake withdrawals they claim people have made so that no one doubts the authenticity.
Permit me tell you that the only thing which is authentic about these guys is their thieving scheme. The admin of the Telegram group is the same team that acts like the support desk. So they have all the information to manipulate you while you keep on dropping in your hard-earned money in hope to cash out a jackpot when the time comes.
Unfortunately, this is just a dream. Please advise people not to invest a dime into this website.
We took a look at the BitIndexFarm website – LINK to website here.  UPDATE: 5th August 2021 – the BitIndexFarm website has now been removed.
We were able to confirm that it was a scam within a couple of minutes. On one page they have provided a copy of the company's Certificate Of Incorporation (see below).  The certificate is fake.  It is a copy of a standard UK Certificate Of Incorporation and includes the words "The Registrar of Companies for England and Wales hereby certifies that…….".  It then says "Given at Companies House , Amsterdam……".  The last time we looked Amsterdam was in the Netherlands, not the UK.  Maybe it was part of a secret Brexit deal.  "Boris, we want your fish and we're prepared to give you Amsterdam in exchange".
Just for good measure we checked with the UK's Companies House (admittedly it wasn't the new Amsterdam branch) and there is no record of a company called Bit Index Farm.  Neither is there a record of any company with the company number of 26432786.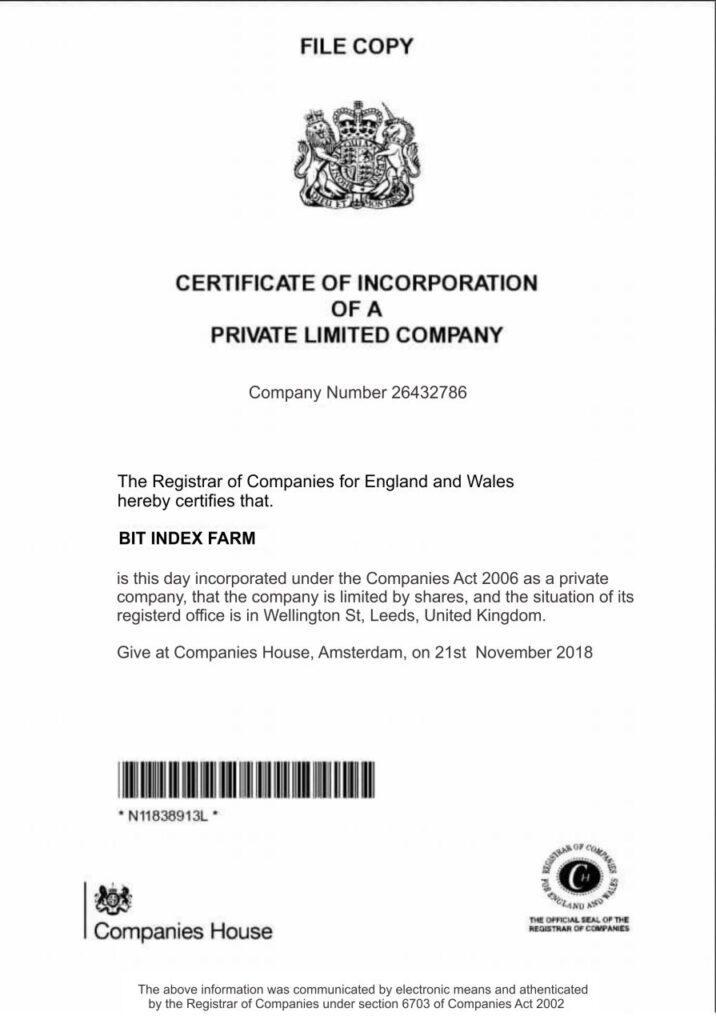 On the FAQ page of their website the first question is:  What is BitIndexFarm ?  Their answer is:
BitIndexFarm.net is an online investment platform who was appointed representative of BitIndexFarm.net who are authorised and regulated by the United Kingdom Company House Authority under firm reference number 234512. This information can be verified on the Company House website. BitIndexFarm.net is registered in England No. 153. Registered office, Wellington St, Leeds, United Kingdom
The opening sentence doesn't actually make sense.  It's like saying "I can speak for myself because I have appointed myself to act as my representative".  There is no "United Kingdom Company House Authority".  The organisation which authorises and regulates forex trading platforms in the UK is the Financial Conduct Authority.  We checked their records. BitIndexFarm.net is not registered with them and there is no firm registered with the number of 234512.  BitIndexFarm.net is a scam.
How does the BitIndexFarm scam work ?  Well, we've seen this a few times. They offer four different bogus trading plans which are as follows:
PLAN A  –  invest $50 and receive your money back + 20% interest in 24 hours.
PLAN B  –  invest $500 or more and receive your money back + 50% interest in 48 hours.
PLAN C  –  invest $2,000 or more and receive your money back + 200% in 48 hours.
PLAN D  –  invest $3,000 or more and receive your money back + 400% in 5 days.
Let's say you're tempted to invest.  How much would you start with ?   Most investors would start with the minimum investment of $50 just to see what happens.
Lo and behold, the $50 investors get a full refund + 20% interest within 24 hours.  They've made a $10 profit.  This is called "using a sprat to catch a mackerel".  BitIndexFarm pays out on the  small amount because the scammers know the investor is certain to increase their investment once they receive their payout.  After all, who wouldn't want to make 200%+ on their money in a couple of days ?
The sums quoted above are minimum investment levels for each of those plans.  The BitIndexFarm scam allows people invest up to $100,000.  As soon as someone has invested into PLAN B, C or D they suddenly find that BitIndexFarm isn't paying out as they promised .  As the enquirer above wrote in the Contact Form, BitIndexFarm comes up with an excuse why they are not paying out.
When an investor opens an account they don't pay their money to a bank account.  They have to open a digital currency account e.g a Bitcoin account and pay into that account.  The money is then used to purchase digital currency for the scammers which makes it untraceable.  The BitIndexFarm scam website has a Terms & Conditions page.  Several of the clauses are designed to prevent investors from taking action against them, but the clauses aren't enforceable.  It's not possible to have clauses which effectively say "It is a condition of joining this platform that if I steal your money you cannot prosecute me".
In another twist, BitIndexFarm offers investors a "Trading Class" membership which costs $5,000 for three months.  Here is a short video from the website produced by "Andrew".  Not sure why he believes filming a selfie on his mobile phone in front of a hotel pool is the best way to get his message across. Maybe he's really a pool cleaner ?
Can't wait for Andrew's next video.  Let's hope he's not going to attempt to explain the complexities of crypto-currency trading while sat on the toilet.
If investors can find these people they can prosecute them, but finding them will not be easy.  We've seen versions of this same scam being operated by scammers in Asia and in Eastern Europe.
BitIndexFarm Scam.