Whittley-Ryan, Baptiste & Westway Holdings.
Last week we published an article on St Helier Capital Management Ltd, its director Simon Whittley-Ryan and the winding up hearing held on 20th October 2020.  We mentioned that Simon Whittley-Ryan submitted a Witness Statement at the last minute which was accepted by our client's barrister.  Our article on the hearing can be viewed here.
This week we are able to provide further clarity because the Witness Statement has been forwarded to us by our client.  It makes interesting reading.
We were surprised to find there is a link between Simon Whittley-Ryan and a company incorporated at the offices of Baptiste & Co.  Baptiste & Co was formed in June 2018 by Richard Gordon Baptiste and is allegedly an accountancy firm.  It played a key role in the Westway Holdings scam which is the subject of a Police investigation.  See here for our articles on Westway Holdings.  Westway Holdings Ltd was owned and operated by a twice convicted fraudster using a false name and it is estimated that the company took in around £25m from investors.
So Simon Whittley-Ryan, Baptiste & Westway Holdings ?  Well, at the hearing on 20th October Mr Whittley-Ryan submitted a screenshot of his personal bank account as evidence that he had the money to pay the petitioner.  He was willing to pay on behalf of the company.  A copy of that screenshot is given below.  We have blanked the names of innocent parties.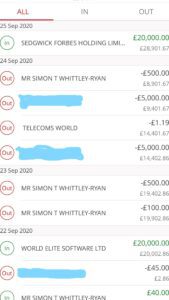 This screenshot relates to the period 22nd – 24th September 2020.  We are surprised this period was submitted by Mr Whittley-Ryan.  He signed and submitted his Witness Statement on 19th October 2020 so we would have expected him to have submitted an up-to-date screenshot of his bank account, not a very small 3 day period in September.  The screenshot shows that on 22nd September he was down to £2.86 in his bank account.
Fortunately, a company called 'World Elite Software Ltd' came to his rescue with a payment of £20,000 on the same day.  That was lucky.  We wonder who controls the WES bank account that it was able to make such a timely deposit.
Here is a link to the Companies House entry for World Elite Software Ltd.  The company was formed a year ago in November 2019.  The Filing History shows that its registered office address was Baptiste & Co, 23 Austin Friars, London EC2N 2QP.  The People tab shows that the company director is James Clements and his correspondence address was, and still remains, the offices of Baptiste & Co.  Around this time, November 2019, Westway Holdings' bank accounts had been frozen and that scam was starting to unravel very fast.  Westway Holdings Ltd was also registered at the Baptiste & Co office address.
Westway Holdings Ltd announced to investors that it was being refinanced by an organisation which would buy up all the existing bonds using a new fully regulated bond.  It turned out that the new regulated bond was fake and the White Knight saviour was apparently a Romanian citizen with a history in crypto-currencies which is rather worrying.  Crypto-currencies are a favourite of criminals and money-launderers because they are untraceable.
One of Simon Whittley-Ryan's companies, Win River Developments Ltd (in liquidation), also has a relationship with a company owned and controlled by a different Romanian citizen, according to Mr Whittley-Ryan.  He has been trying to persuade both investors and the liquidator that Win River Developments had made an advance payment of £300,000 to the Romanian-owned company for 'promotional and marketing activity'.  Yeah, right.  It's standard practice for company directors to pay £300,000 in advance to a recently formed company with no history, no employees, no website presence and a sole Romanian director….. good luck getting people to believe that one.
So we have Simon Whittley-Ryan's company paying an unrealistic sum of money to a Romanian citizen, and Westway Holdings Ltd allegedly due to receive an even more unrealistic sum of money from a Romanian citizen, and both have a link to Baptiste & Co.
Jump back to the bank account screenshot and we have Mr Whittley-Ryan receiving £20,000 from a company registered at the same Baptiste & Co office as Westway Holdings.
Perhaps we are reading too much into this and World Elite Software Ltd is truly a global software specialist company providing unique and valuable software to discerning customers.  Err…. I think they're going to need put a bit of work into their website to persuade people about that one.  The website they've got is not really sending a World Elite Software message, but more of a "we're definitely a scam company" message.  Here's their website.  The company was formed 12 months ago and this is the best they can do.  This really is the only wording on their website:
"By creating and deploying ground-breaking and robust A.I. software, we aim to provide you with automated solutions to fulfil and optimise your market requirements.  We are committed to offering the trading accounts of our clients exclusive software and a support team that is active and working throughout the trading week, every hour of the day".  That's it.  Nothing more.
It is our opinion that World Elite Software Ltd is unlikely to be a genuine trading company and is most likely either a front for a money-laundering operation or a conduit company which allows money to be brought back into the UK and transferred on, thereby enabling the ultimate recipient to disguise the true source of the funds.
You will note that two payments of £5,000 were taken from the account.  At the moment we are unsure as to whether these were genuine payments and have been making enquiries.
On 24th September Mr Whittley-Ryan would have been feeling pretty flushed.  He received another £20,000 payment.  This time from a company called 'Sedgwick Forbes Holding Ltd'.  Here is a link to its Companies House entry.  It was also formed in November 2019, the same month as World Elite Software.  In this case the registered office address is 8 Rutland Street, London.  This address is home to a few companies including one called 'Global Elite Holdings Ltd'.  'Global Elite' and 'World Elite'.  That's a coincidence.
The owner of Sedgwick Forbes Holding Ltd is Toby Meagher.  He is also director of Britannia Capital Ltd which is a company formed in 2014 by our dear friend Barbara Kahan.  Barbara is 89 and has formed more than 30,000 companies in her time.  We come across her on a regular basis.  When Barbara was running the company it was not called Britannia Capital.  It was called 'Funbunny Ltd'.  We wonder how Barbara attracts buyers for her shelf companies.
"Looking for company ?  Funbunny available – call this number and ask for Barbara".  I'll bet she gets a lot of phone calls.
Toby Meagher is now plain old MR Toby Meagher now.  In the past he has used the title of SIR Toby Meagher in a couple of companies. We wonder why Sedgwick Forbes Holding Ltd paid £20,000 to Mr Whittley-Ryan.
We believe World Elite Software is worthy of a much closer inspection by the liquidators of Simon Whittley-Ryan's three companies because it may give a clue as to where some of the investors' money was hidden.