Burlington Capital Holdings Scam.
A group of scammers calling itself Burlington Capital Holdings Ltd is carrying out a follow-on-fraud against people who have lost money in investment scams.
Just to be absolutely clear, the genuine company called Burlington Capital Holdings Ltd has nothing to do with this scam.  Its identity has been hijacked by scammers who are pretending to be the genuine company.
The scam group is using an email address of [email protected].  The domain name of burlingtoncap.co.uk was purchased on 31st August 2021 and is therefore only 22 days old at the time of writing this article.  These scammers are obviously very keen to get their scam out there and to take in as much money as they can before they are rumbled.
Here is an email they have been sending out to their intended victims:
From: [email protected]
To:
Subject: Information from Burlington Capital Holdings
Dear
We can confirm we have now received your funds, your cheque will be issued to you once we have received authorisation from the client holding facility stating that your account has been successfully completed.
Once completed, we will issue payment to you by way of cheque or bank transfer.
For your records, I have attached a copy of the cheque we have received. Please keep a record for your own book keeping.
Please get in contact with us at your earliest convenience for your Capital retrieval.
Kind regards,
John Gray.
Compliance Officer.
Burlington Capital Holdings Ltd
Trading Address: 111 Buckingham Palace Road, London, SW1W 0SR
Registered Address: 30 St George Street, London, W1S 2FH
Website: www.burlingtoncap.co.uk
Telephone: 0203 488 4836
Company Number:  10549015
Two things to note.
1. "We can confirm that we have now received your funds".  No payment has been made by the intended victim so that sentence is designed to entice the intended victim to email back and query the payment, at which point they will probably be told there was an admin error and no funds have been received, but would they like to pay the release fee and then the large sum that Burlington is holding can be released to them.
2. "I have attached a copy of the cheque we have received".  This is the hook to make it look like a buyer for their worthless investment really exists and that it has paid money into an account.  The cheque is made out in the name of intended victim [NAME REMOVED BY US], and as you can see below it is for a very large sum.  The cheque is of course entirely fake.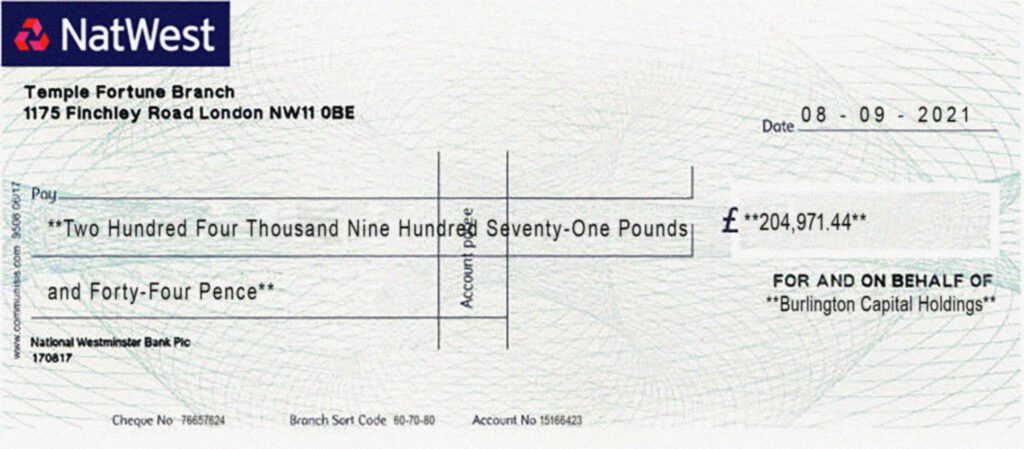 The cheque is from Nat West Bank and shows the sort code of 60-70-80.  It also states that the branch location is Temple Fortune Branch, 1175 Finchley Road, London.  It turns out that the sort code is a genuine Nat West code, but the branch to which it relates is Government Banking CST PO Box 2027, De Havilland Way, Horwich, Bolton.  That's 200 miles away from Finchley.  We also ran the sort code and account number through an account checker and were informed that account number 15166423 does not match to the sort code of 60-70-80.  In other words, the bank account number is fake.
It would be nice if somebody was out there willing to pay £204,971.44 for something that has absolutely no value, but sadly the world doesn't work like that.