Festival Hotels & Shepherd Cox
Following on from the IVA Proposal submitted by Nick Carlile and the subsequent hearing at which he was declared bankrupt, Lee Bramzell has now issued his new IVA Proposal for his hearing on the 21st of this month.
In this latest IVA Proposal, Mr Bramzell explains that the reason for the withdrawal of the December IVA was that it was objected to by Festival Hotels Group's main funder, Luqa Ltd.  In the new proposal he claims he was able to agree a settlement sum with Luqa which would be paid by end of April this year.  However, cutting a long story short, Mr Bramzell now alleges he was thwarted in his attempts to save FHG by the actions of Luqa Ltd and the director they appointed to FHG in December 2020, Mr Peter Shakeshaft.
Surely that wouldn't have come as a surprise to Mr Bramzell.  We wrote about Mr Shakeshaft in this article – LINK in January and it must have been fairly obvious how it would end up.  He was installed for only one reason.
According to Mr Bramzell, Luqa bought out the original lender to the Crab and Lobster Hotel and Restaurant – LINK to website.  Luqa was then entitled to charge 3% default interest per month on the loan.  Mr Bramzell doesn't have a pot to put liquid in, so it was always going to be the case that Luqa Ltd would end up taking control of the Crab and Lobster, which it did, as we reported here – LINK.
We spotted the hotel had been bought by a company which had installed Peter Shakeshaft as director and where the beneficial owner was a man who had been involved with Mr Bramzell in his Shepherd Cox days.  According to Mr Bramzell the hotel was bought the day after Luqa put it into receivership and it was Luqa which loaned the money to the new owner to enable him to buy it.
Mr Bramzell then goes on to explain that a week later his Festival Hotels Group lost three more properties.  The Allerton Court Hotel, Hallgarth Manor Hotel and the New Hobbit Hotel were bought from under Mr Bramzell's nose by other Peter Shakeshaft companies using money provided by Luqa.
He also states that Luqa has approached the lenders on The Three Ways Hotel and The Bridge Hotel & Spa to buy out their positions.
In Mr Bramzell's view, Luqa intends to put those two hotels into receivership and then immediately sell them to more Peter Shakeshaft companies.  That seems a fair assessment given the circumstances.  That would make seven out of the ten hotels owned by FHG being taken away by Luqa and Peter Shakeshaft.
Mr Bramzell makes some quite incredible statements in his IVA.  For example:
1.  There are a number of other parties affected by the losses arising from Luqa's enforcement some of whom have already expressed their eagerness to support me in future projects in order to seek to recover their losses.  Eagerness !  We doubt that.  He has amassed personal creditors of £19m.  This is like the Captain of the Titanic saying "the Titanic owner has expressed its eagerness to put me in command of its next ship".
2.  ….and following the compulsory transfer of Nick Carlile's shares (as a result of his recent bankruptcy), I would own 61% of this business [Festival Hotels Group].  That will be an interesting conversation with Nick Carlile's trustee in bankruptcy.  We very much doubt those shares will be transferred to Mr Bramzell.  They belong to Nick Carlile's creditors.
3.  If these efforts ultimately prove unsuccessful however I will have no alternative but to pick myself up, dust myself off, get back out there and start again.  He can't be serious ! We hope by "start again" he means try something new like get a job.  God forbid he means to start borrowing money again and setting up new schemes.  There's the very big question which hasn't yet been answered of whether or not Mr Bramzell and Mr Carlile will face director disqualification proceedings and even more serious charges related to the Shepherd Cox scam.
As with the first IVA there is no mention of the £16m of losses incurred by more than 200 investors who bought rooms in his Shepherd Cox hotels.  He shows no remorse whatsoever for his actions.  In fact, he has the audacity to disregard them completely when he says:
4.  Over the last six years I have completed over 20 hotel acquisitions and raised over £60m of funding from a range of different sources…… I am aware of several off market acquisitions today and can develop interest from funders attracted to the sector.  Mr Bramzell has more neck than a giraffe.  No mention that almost one third of that sum was obtained through an illegal scheme and that another third is owed by him personally to creditors.
5.  I have consistently acquired hotels off market with demonstrable track records of high profits.  What an odd place planet Bramzell must be.  Only one resident who is severely delusional.  He  exists in a different reality to the rest of us.  Six of his hotels were forced into administration last year because the court ruled that they were insolvent.  They hadn't made a profit from the day Shepherd Cox bought them.
6.  I was also able to unlock additional value from those hotels by securing planning permission for amongst other things extra bedrooms.  Here are some images of those extra bedrooms Mr Bramzell was able to secure planning permission for.  He obtained planning permission for nine extra bedrooms at The Grand Hotel in Hartlepool in 2016.  He then sold off those bedrooms at £60,000 each a few weeks later to investors in the Far East.  They paid in full.  The planning permission expired in 2019.  These images were taken in 2020.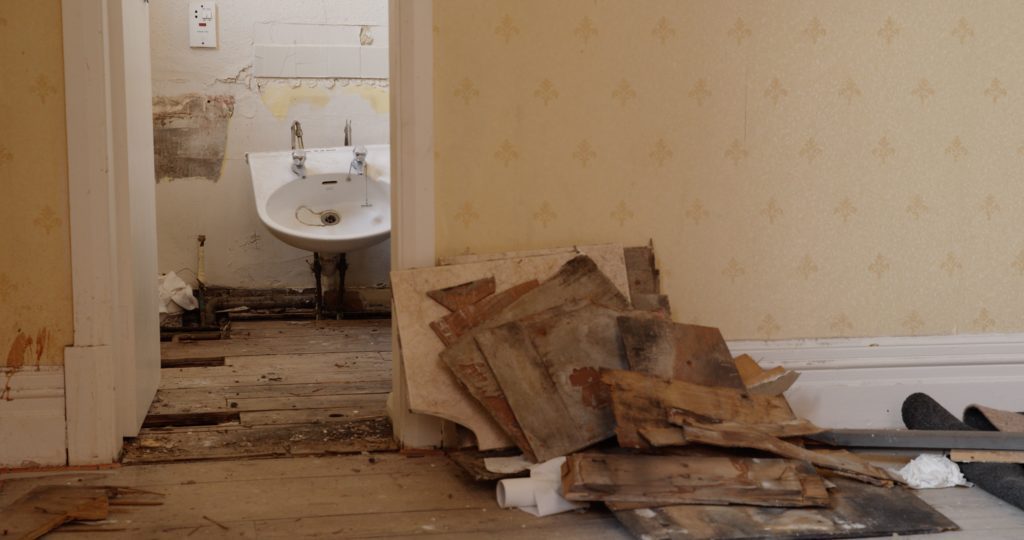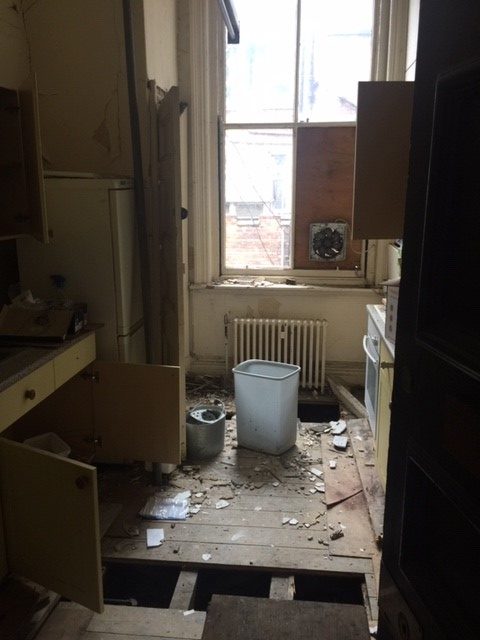 The en-suite looks a bit ropey.
He also failed to get planning permission on three extra bedrooms at The Jersey Arms Hotel when the planners refused the application.  That didn't bother him.  He sold the rooms to investors anyway describing them as hotel bedrooms.   Here's an image of one of those bedrooms which was taken in 2020 after the hotel was put into administration.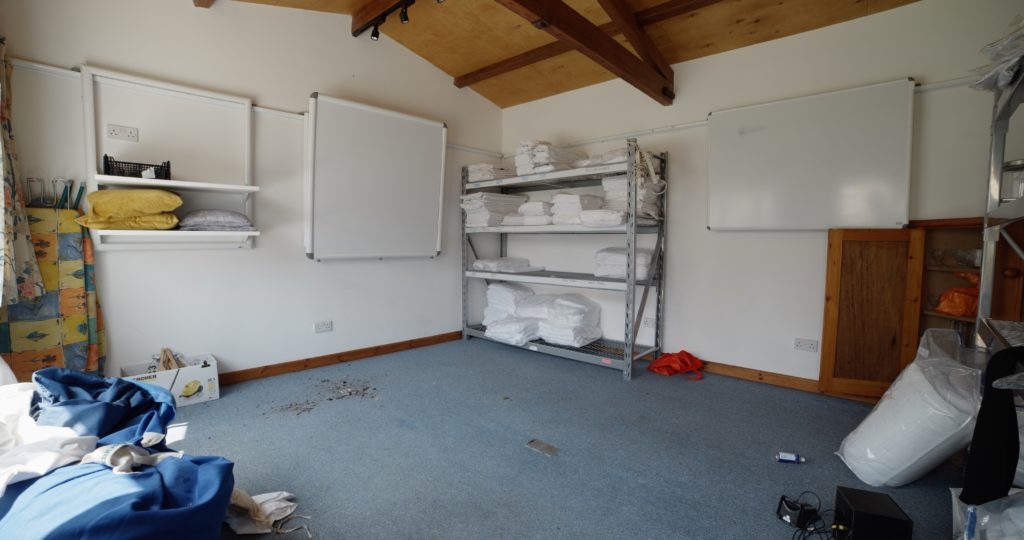 Just to be absolutely clear – we looked inside the brown cupboard to see if there was a midget's en-suite in there.  There wasn't.  It's not the Crab and Lobster – that's for sure.
Investors in The Grand Hotel and The Jersey Arms were none the wiser.  They received their quarterly guaranteed rentals from Shepherd Cox so they thought their rooms were operational.
Mr Bramzell's personal debts are listed at £19m and that is without considering his part in the additional £16m of losses incurred by room investors. He's not even acknowledging that loss.
Also, as with the first IVA, Mr Bramzell is continuing to exclude his house and car from the arrangement.  In his world he gets to keep those whilst some of the people he ripped off are at risk of losing theirs.  At least Mr Carlile had the decency to recognise it was wrong of him to exclude his house when the debt was so large.  He included his house in his second IVA Proposal, but that still wasn't enough to convince his creditors who chose to bankrupt him.
It is for Mr Bramzell's creditors to decide whether or not to support his IVA Proposal.  If they do then his house will forever be beyond their reach as creditors because that's the rules.
The original IVA involved ten hotels.  This IVA is now down to five with two more hotels under threat of confiscation.  It's very interesting that Peter Shakeshaft incorporated ten new companies, not five or seven.  We think that gives a pretty good indication of what is coming whether Mr Bramzell wants it or not.
We also believe Mr Bramzell's role in the sale of hotel rooms is likely to result in further action against him in the future.  The Administrator has not finished his investigation and has not filed his report with the authorities.  It's very disappointing that Lee Bramzell's 95 page IVA Proposal didn't even offer a hint of an apology to his victims.
Festival Hotels & Shepherd Cox – Festival Hotels & Shepherd Cox – Festival Hotels & Shepherd Cox