Parkmount Group Scam
Earlier this month we covered the Intercare Wealth scam which was being perpetrated by Amandeep Kaur and Ravinder Singh Dhillon.  Here is a LINK to that article – ARTICLE 1
The Parkmount Group scam is one of several running at the same time involving a network of people involved in scams for more than a decade.  We are naming this report ARTICLE 2.
ARTICLE 1 describes how Amandeep Kaur and Rav Dhillon Singh are attempting to solicit investment into a supported living scam.  It also covers their other ventures of UK Property Club and Harley Street Property Club.
UKPropertyClub promotes Parkmount Group investments.  Rav Dhillon Singh (who has begun calling himself Rav Singh and he is not the only person who has chosen to use a variation on his real name) describes himself as a director of Parkmount Group, but as ARTICLE 1 points out, he isn't a director and never has been.
We have established a link between Amandeep Kaur, Rav Singh Dhillon and the Parkmount Group scam.  As Parkmount Group only has one director, Adam Ali, we can be sure that Adam Ali knows Rav Singh and Amandeep Kaur.
However, we believe Adam Ali doesn't exist.  We believe it is a false name and Adam Ali is in fact Ansar Ali.  Both men have been involved in a lot of companies.  Both are registered at Companies House as having been born in July 1976 and both men have companies registered at the same addresses.  Furthermore, both men have been registered at separate times as co-directors of companies involving a lady who has also used different versions of her name.  She has used the names of Shuma Ali, Shuma Noor-Ali and Shuma Noor.  Shuma Ali is the wife of Ansar Ali, but as you will see in the next article – ARTICLE 3, when she uses the alias of Shuma Noor she gives her husband an alias too.  His is Ansar Noor.
We are particularly concerned about the companies below which were registered under the name of Shuma Noor.  Our concern is that she is acting as a front for Ansar Ali and potentially others who would not pass the necessary regulations to be registered as a provider of supported living services.  The companies involved are:
Coastal Supported Living and Care Ltd;
Coastal Supported Living C.I.C;
Coastal Housing CIC
Coastal Living Southend Ltd
Rosebuds Supported Living Ltd.
We will be writing ARTICLE 3 on Shuma Ali / Shuma Noor-Ali / Shuma Noor and these five companies later this week.
It is clear from the promotional material on the UKPropertyClub Facebook page that Parkmount Group is trying to raise investment for conversion of the Branch Hotel in Westcliff-On-Sea into a HMO (House of Multiple Occupancy).  See image below taken from the Facebook page: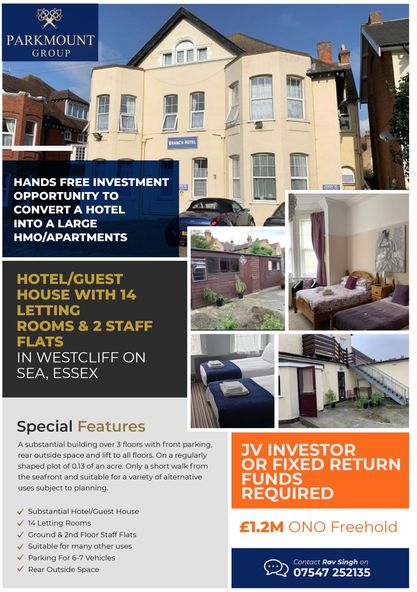 Adam Ali of Parkmount Group is registered as a director of Trulea Estates Ltd (LINK to Companies House entry).  You will note from this entry that the correspondence address for Adam Ali is 13 Cobham Road, Westcliff-On-Sea.  That is the address of the Branch Hotel as can be seen on this LINK to a hotel site.
A check on the planning portal for Westcliff-On-Sea shows there has been no planning application made for the Branch Hotel since 2005. 
Suspicious Timings & Events
1.  Ansar Ali has had a lot of company directorships but none after July 2017;
2.  Adam Ali has had a lot of company directorships but none before July 2017, except for one in a company called Maddox Constructions Ltd which is a fake entry.  That directorship was not registered until January 2021.  The filing in January 2021 stated that Adam Ali was appointed as a director in 2017.  It is fair to assume that this is a false entry back-dated to cover tracks.  Directorships are expected to be registered within a few days of appointment, not almost 4 years later.  Since May 2018 Adam Ali has been registered as a director in 13 new companies that we are aware of.
3.  Ansar Ali has been involved in carbon credit scams, diamond scams and palm oil scams.  See the links below to newspaper articles and UK Government articles:
ELITE GEMS ARTICLE BY INVESTIGATIVE NEWSPAPER REPORTER TONY HETHERINGTON
UK GOVERNMENT ANNOUNCEMENT ON ANSAR ALI INVOLVEMENT IN CARBON CREDIT SCAM
PALM OIL ARTICLE BY INVESTIGATIVE NEWSPAPER REPORTER TONY HETHERINGTON
The two companies mentioned in the Tony Hetherington articles, Elite Gems Ltd and Quick Payroll Solutions Ltd had two directors – Ansar Ali and Sami Raja.  Below is an article on Sami Raja and his escape from UK justice by fleeing to Dubai.  Fortunately, Mr Raja got fed up in Dubai and felt the need for a holiday in Greece.  He was arrested when his plane landed and was extradited to the UK where he is now serving an eight-year prison sentence.
We have discovered there were at least eight other companies where Ansar Ali and Sami Raja were co-directors.
4.  Ansar Ali was also a director of Belgravia Property Group Ltd until another late filing at Companies House notified that he had allegedly resigned in March 2019.  That filing was made in October 2020 so it's clearly another false back-dated entry.
5.  The man calling himself Adam Ali was appointed as a director of Belgravia Building Services Ltd and Belgravia Construction Group Ltd.  Both of these appointments were also false back-dated entries made in June 2020 stating that Adam Ali had been appointed in July 2019.
It is no coincidence that these three companies have similar names, all have back-dated filings at Companies House, which is quite rare, and all three have the same registered office address of Chantry House, 10a High Street, Billericay, England, CM12 9BQ.
Adam Ali is really Ansar Ali.  You can view Ansar Ali's LinkedIn profile on this LINK.
Finally, you may say it's clear there is a link between the name of Adam Ali and Ravinder Singh Dhillon because of Parkmount Group, but is there a clear link between Ravinder Singh Dhillon and Ansar Ali which ties all of this together ?
See this LINK to the directors of a company called FLS (GB) Ltd.   You will see that Ansar Ali and Ravinder Singh Dhillon were the two directors of that company.
In the next article on this scam network we will be looking look at Shuma Ali / Shuma Noor-Ali / Shuma Noor and highlighting her links with scams and scammers.  Not only is she going by the name of Shuma Noor, but her husband is apparently called Ansar Noor.  We'll go on to prove that Ansar Noor is really Ansar Ali in that article and also provide further proof that Adam Ali is also really Ansar Ali.
To view our 3rd article in the trilogy (Coastal Supported Living Scam) please click HERE.
Parkmount Group Scam.