Sky Capital Holdings Inc Money Mule Account.
Following our recent article on the LXK Inc and Wellington Capital Group scam – LINK, we have been contacted by a person who invested in that scam and who has also fallen victim to the subsequent follow-on-fraud.  A follow-on-fraud is where scammers contact victims of investment scams claiming to have recovered their money. The funds can be released upon payment of a fee.  The victim in this case was asked to pay the fee into a bank account in the name of Sky Capital Holdings Inc. Unfortunately he saw our Scam Alert after he had paid his money.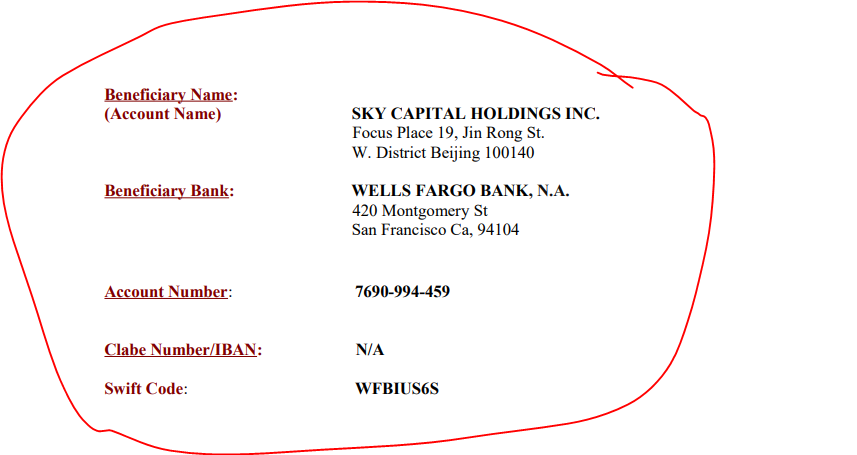 You will note that Sky Capital Holdings Inc is allegedly a company based in Beijing, China, but is having the money paid to a Wells Fargo bank in California.  We believe this to be a money mule account whereby any money deposited in the account will be immediately swept out and transferred on to the scammers.
There is another money mule account which is being used by the same scam. This is an account in the name of PT STOCK VALUE INDONESIA and the bank is based in Jakarta.  We have copied the bank account details below:
BANK:   UOB INDONESIA
BENEFICIARY NAME:   PT STOCK VALUE INDONESIA
SWIFT:   BBIJIDJA
USD ACCOUNT NUMBER:   538 900 0486
We have come across this money mule account before when it was being used in a different scam.  We wrote to the bank two years ago to get it closed down, but clearly it is still in operation and still stealing money from investors.
Sky Capital Holdings Inc Money Mule Account.